STEVEN SLATE DRUMS CUSTOM
Steven Slate Drums 4 Custom comes with one world class Steven Slate DELUXE drum kit, as well as an additional kick and snare sample from the CLASSIC pack. Using various blends of the drum options in the mixer, Slate has crafted 10 preset drum kits ranging from vintage to rock to metal! Check out all the preset drum kits in SSD4 custom below! All kits can be customized with ease! The SSD4 player is a 64-bit/32-bit Mac/PC (AAX, RTAS, VST, AU) drum instrument that is simple to use in any DAW.
Loading and customizing kits is a breeze. Routing out the kit pieces discretely to your workstation couldn't be easier. SSD4's internal groove can even use grooves from other drum libraries! And, kits can also be played on a variety of E-Drum Kits (Roland, Yamaha, Alesis for example). SSD4 Custom is future proof! You'll be able to upgrade your virtual drum library with amazing expansion packs, such as the currently available
Chris Lord Alge pack
!
Q: What is the difference between SSD4 Custom and EX/Platinum?
A: Only the number of drums and drum kits you get. The player is exactly the same!
Q: Can I use SSD4 to trigger from live audio tracks?
A: Only if you use some other utility to change the audio into MIDI. For triggering Slate Drums from audio, use TRIGGER.
Q: If I get SSD4 Custom, how can I get more drums?
A: We will have numerous specials on expansions and upgrades in the coming months, it'll be easy to build up your virtual drum library.
 1 Amazing Steven Slate Drums Deluze Kit with full Cymbal pack
New SSD Player
Mac – AAX/RTAS/VST/AU
PC – AAX/RTAS/VST
1 extra Slate Classic Snare Drum
1 extra Slate Classic Kick Drum
10 Drumkit presets in a variety of styles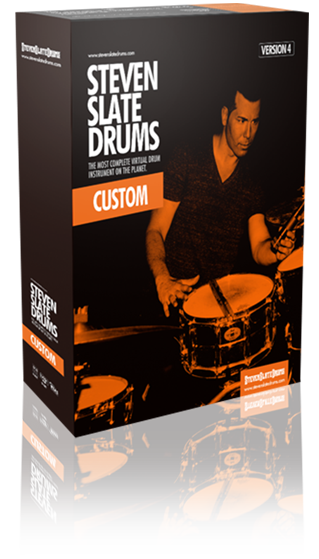 Mac OS X 10.6.x or higher
AAX, RTAS, VST, AU supporting DAW
Screen Resolution of 1280 x 1024 or higher
SSD has its own proprietary licensing system, and does not require an iLok
Any Intel or AMD CPU with SSE2 support
AAX, RTAS, VST support DAW
Screen Resolution of 1280 x 1024 or higher
SSD has its own proprietary licensing system, and does not require an iLok